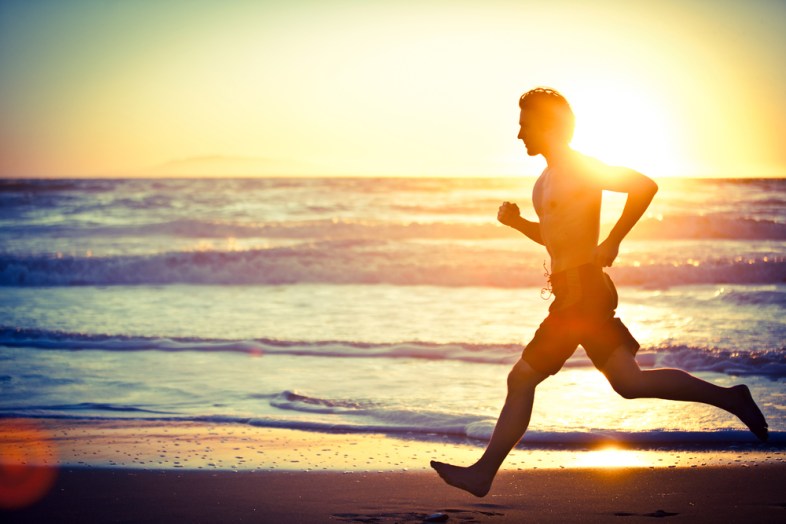 Forget the hipster coffee shops and local bars, perhaps it's time to lace up your trainers and sign up for the next 5K. Running doesn't just do amazing things for your body (think: lowered risks of breast cancer, stroke and mild depression) but it can also do wonders for your love life. Ladies, it's time to get yourself a running buddy, or at the very least, a spot on the sidelines to cheer on the marathon men.
According to RunningUSA, 58 percent of competitors in a local marathon are men. With the odds in your favor, here are a few of the many, many reasons to date a runner.
1. They're Dedicated
Staying in shape is no easy feat. Finding the motivation to go to the gym before or after work every day and train for a marathon is nothing short of a miracle. They work hard to get stronger and challenge their bodies. Surely this quality of dedication is something that carries over to their relationships, too.
2. They're In Incredible Shape
Runners make the time to stay fit, and that hard work seriously pays off. Physical strength, a healthy weight, a strong heart, the list of benefits goes on. Have you seen a runner's body? Baby got track. Bonus: they're constantly sweaty, shirtless and wearing short shorts.
3. They're Sex Gods
They don't call them 'marathon men' for nothing. Another perk of running is building stamina, not only does it push his body to new heights but he can last longer in bed. (Perhaps it's the one time theywon't sprint to the finish line?) Running improves vascular health, which is neccesary for men to perform sexually. Plus, running improves body image, meaning he's confident and comfortable in the bedroom. According to Runner's World, runners have the bedroom skills of men two to five years younger. Score.
And, the sexual talents of runners don't fade with age. Harvard University researchers found men over 50 who run at least three hours a week have a 30 percent lower risk of impotence than those who do little or no exercise. Even better? Your bedroom sesh helps him run better. More excuses to stay in bed all day!
4. They'll Motivate You
Exercising is always better with company, and when you work out with a partner you're more likely to stay active. In the long run, it's better to have a partner that suggests a couples run in the morning over binge-watchingBreaking Badon the couch, as awesome as that sounds.
Running on a regular schedule, training for marathons, sleep, maintaining a healthy diet — runners take control of their health. They're good planners, goal-oriented and have unbelieveable self-control. Total package.
5. They're Sharp
Looking for clever fella? Of course you are. Check out the closest track for a sea of smarty pants. Research shows that running helps grow new brain cells, makes you a better learner and boosts memory. With his young and nimble brain, he'll keep you on your toes and won't forget your anniversary or the eggs at the grocery store. Where can we sign up?
6. They Support Good Causes
Runners sign up for local 5Ks, 10Ks, half marathons or full marathons, but they're not just running for themselves. Most of these races are for a good cause, or require participants to raise money for one. Leading up to the race, he'll support the cause and raise awareness among friends and family. Not much of a runner? You can still donate to the cause, still volunteer at the race and hold a supportive sign for your beau.
7. They're Happier People — And It's Contagious
Studies show that people who run are happier than people who don't, and runners are more likely to have a positive frame of mind because it naturally relieves stress. Researchers at the University of Georgia Department of Exercise found that working out is three times more effective at reducing anxiety than resting. And surely you've heard of the runner's high? It's a fact: His favorite hobby triggers a flood of endorphins in the brain. A joyful, low-stress dude? Really, what more could you ask for?
8. They Have A Natural Glow
Not only are they happy—they look the part, too. A sweaty run actually boosts natural oils, which helps keep skin healthy and glowing. You've got a shining star on and off the track.
9. They Have Self-Confidence
All those runs through the woods or on trails are doing wonders to his self-esteem. In astudy, runners who ran outside and had a good view of nature showed increased self-esteem after their workout. Someone who's great and knows their self-worth? That's sexy.
So go outside, you never know who you'll run into.

This post originally appeared at YourTango.