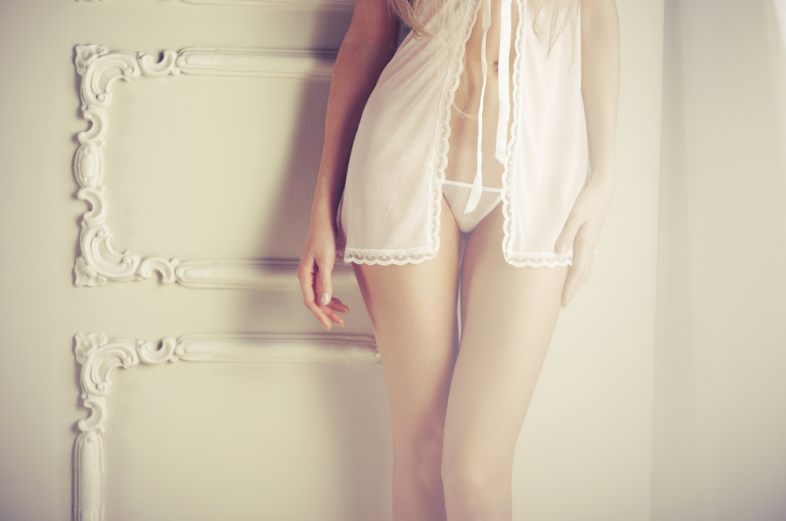 I waited in anticipation at the airport, arriving 15 minutes before his plane was supposed to land. I was wearing a form fitting, colorful, sexy dress with a cowl neck, knee length with a slit in front, showing off my hour glass shape and my butt. It was one of his favorites, showing off my svelte body. I wore black, sexy, open toed, stacked heels, with my newly pedicured pink toes peeking through. I looked like a normal, attractive woman, waiting for her lover. The only difference was that I had a pair of Ben Wa (orgasm) balls inside of me, something that he asked me to do. He wanted that kind of welcome.
He lived in another country, a few hours away, and he was visiting me, for just the second time. We text each other every day, talking about life, reflecting on things, using the power of descriptive words to make love to each other online. It was some kind of sexy dance, teasing each other to heightened anticipation until the next time we would meet in person, just like today. It was like having a first date each time.
Finally, his plane had landed. I proceeded to the nearby washroom to do something according to his instructions. I opened my black leather purse, and from there I took out my Luna beads, a modern version of Ben Wa (orgasm) balls.
I had two pairs of these balls, one pair was 28 grams each and the other pair was 37 grams each. The metal balls were encased by a transparent ball, bigger than the metal ones. This made the smaller metal balls jiggle, giving a pleasant sensation while inside the vagina. The two balls were held together by a white silicone holder, joining them together. One ball had a string attached to it, for easy removal once inside the pussy.
He was so fascinated and turned on when I told him that I had Luna beads. He had never been with a woman who had them and when he decided to visit me, he asked me to put the beads in as his plane landed. He said he liked thinking about me, meeting him at the airport, with the beads inside me, arousing me and my Kegel muscles holding them in. It would be our little secret; all those people round me, not knowing I was using my pussy muscles to hold in a pair of balls as I waited for him. So sexy. It made me wet when he told me to do this, the night before he left.
I got the beads from their protective case. I used the lighter ones, each 24 grams, beaded together by their silicone holder. I pumped a pea sized amount of lube at the tip, bent over and inserted the beads into my vagina. I walked out of the toilet stall, and I stopped in my tracks. I was surprised with a different kind of sensation. I had, of course, worn the beads before, but only at home, practicing my Kegel exercises, while barefoot or wearing slippers. But this was the first time I was using them with heels, and it changed the tilt of my pelvis! It was more stimulating as the beads kept shaking inside of me as I strutted with my heels. I suddenly felt a heightened sense of continued arousal.
I got a text from him. "I'm finally here…to see you. But immigration lines are sooo long!" and I texted back, "I'm here, waiting. Balls in. Never used them with heels and they're making me feel more aroused. Buy wine. Hurry."
He was not at the baggage claim yet, so I sat down on one of the plastic seats connected to each other like a bench. The guy beside me kept standing up and sitting down, plopping himself on the chair beside me and this made the balls quiver inside of me, increasing my arousal.
Finally, I saw him…he was wearing a dark grey, collared, long sleeved shirt, black shorts and loafers. I stood up from the seats, my face giddy, because the balls were stimulating me from the inside, as my pelvis moved when I walked in my high heels. He looked around to find me and when he saw me, he stopped in his tracks, smiling his handsome smile, waiting for me to walk to him, knowing that I had balls in my pussy as I did that.
We kissed softly, one on each cheek, as he held my waist. "You're so beautiful, baby. I missed you," he said, looking intently into my eyes. "I missed you too," I said.
He put his arm around my waist, softly caressing my hips. "Are the balls really in?" he asked me. "Yes, darling. They are," I smiled. "How do they feel?" he asked. "They feel different with my heels on. I feel very aroused and I'm very wet. We need to get to the hotel quick," I said. And it was true…I was wearing peach lace thongs and the moment I put in the balls, I could feel myself getting more wet than usual. I was afraid I'd stain my dress and I almost regretted wearing thongs!
We took a cab and proceeded to the hotel. It was a short 15 minute ride. The roads were smooth but every little bump made the balls jiggle inside of me. We arrived at the hotel, and we checked in. We walked into our room.
Once inside, he kissed me and put his arms around me. Oh, it was so good to kiss him. I hadn't seen him in almost three months. He caressed my ass and started pulling up my dress. He looked at my firm ass, and they looked really good with my peach, Italian lace thongs, and squeezed them gently. "I'm going to take a shower," he said. "I want to be clean for you."
I unpacked while he went to the bathroom. I removed my heels and sat down on the edge of the bed. He came out with a towel around his waist. He walked to me, kneeled down in front of me and pulled up my dress. He kissed my abdomen gently, then went to my mound, inhaling my sweet smell there. He slowly pulled down my thongs. He stood up and removed his towel, and I could see that he was semi erect. I looked at his cock, as he looked at my freshly waxed pussy.
I moved up the bed and he lay beside me, kissing me, starting out gently, tentatively. Then his tongue caressed my tongue, while I absorbed the passion of the moment. He pulled up my dress to remove it. He pulled down my matching peach lace bra and kissed my nipples. "Oh how I missed these," he said as he softly kissed and sucked them.
He unclasped my bra and we were both naked on the bed. He looked at me intently then slid down. He kissed my vagina lips, licking me from top to bottom. He sucked on my inner labia, my outer labia. He kissed my clit, just a greeting, then teased me by going back to my pussy lips. He sucked on them, biting gently. It was exquisite and I could feel every small movement of his tongue against my pussy, every small, tender bite he was giving me. I felt so aroused as I moved my hips to the rhythm, the beads jiggling inside of me and heightening my arousal. I always loved the way he ate me.
"Your pussy is so beautiful," he said softly. He continued loving me there, kissing, licking, darting his tongue in and out, giving me soft, tender bites, his eyes closed and with an intense expression on his face, while I relished every second he was eating me, worshipping me.
Finally, he pulled the cord of the beads gently, with one bead popping out. It was such a good feeling to be relieved of the bead, and I moaned softly. But he pushed it in again, to my surprise. Then he pulled it out again, exposing one bead, then pushed it back in again. Oh my God, he was masturbating me with the beads and I moaned. Then while pulling the string of the beads with his thumb and pointer finger, he pushed them in again, while inserting his middle finger inside of me, fucking me with his finger and the beads. "Uhhhhh, " I moaned, and closed my eyes, while I moved my pelvis up and down. I had never used the beads this way and it was exciting me. He was always a spontaneous, creative lover.
He stayed there, fucking me with the beads and his finger, bringing me to a higher level of excitement until I almost came. Finally, he pulled out the beads entirely. They were very wet and sticky with my pussy juice. When he saw that I was looking at him, he put the beads in his mouth, and sucked them. It was so hot, to see him suck my pussy juice with relish. He often said, "I like everything about you," but I never thought it would include this.
He climbed back up to lie down beside me, kissing me passionately, letting me taste myself, while I lay there, basking in my first orgasm of the night, the first of many. "You were so wet, baby. Cum for me," he said.
He kissed me softly, then went on top of me to straddle me. "I want you, now," he said in a low voice. He took a condom and put it on his erect cock, all 7 inches of it.
He slowly entered me and I moaned. I was ready and wet and I thrust my hips to meet his. He bent forward to kiss me and I wrapped my legs around his, while he kept thrusting and thrusting, while kissing my neck, fondling my boobs. I touched his hair. I always loved running my fingers through his sexy, soft hair.
He straddled me while looking down on me, and while he was inside of me, thrusting, he looked at my eyes and I looked at his, never losing that connection the whole time. It was so intense. His blue eyes were fully dilated and he had a mixed expression of love and power. "Tell me you want me to fuck you," he said softly. "Fuck me," I said. "Fuck me, Scott. Say it," he said. "Fuck me, Scott!" I said.
I squeezed his cock with my pussy, slow at first, then stronger and faster. He was always amazed with my strong Kegel muscles and told me I had a magic pussy. "Uhhh, baby. Fuck me, Alexandra," he moaned. As he pulled his hips away, I squeezed his cock in with my pussy muscles. And as he thrust in again, I squeezed again, doing this until he thrust faster and faster, both of us drenched with our sweat as we came at the same time.
"I love you, Alex," he whispered to me, as he collapsed on top of me. "I love you too, Scott," I moaned as I enjoyed the first of my orgasms that night.