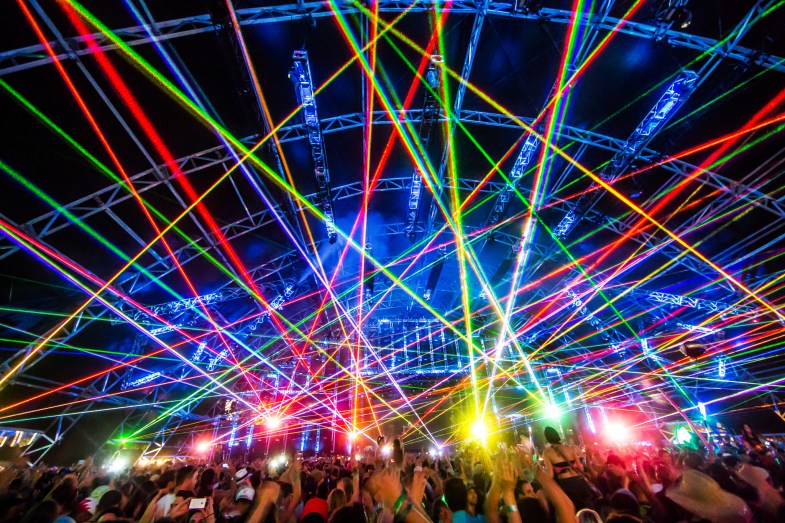 1. There are literally 8 fafillion different types of flower headbands.
Prepare to be surrounded by a sea of them during the 3 spectacular days in Indio. 8 fafillion is by no means an exaggeration, either. From types of flowers, to size, to the things they do (yes, some do have flashing lights on them), it's almost an entire festival in and of itself. (Note: I did not participate.)
2. Paying $8 for a Heineken is totally cool.
Well, not really. But you will be so engulfed in the excitement, you won't complain. And you'll go back for another…about 6 times. (Note: There are also many, many ways to hide a flask. Let your creativity run wild)
3. Food trucks are awesome
Chicken tenders? Got that. Pizza? Yep. Mac 'n Cheese? Obviously. Multiple all-organic health food trucks? I did mention this is in California, right? The food at Coachella comes from some of the best restaurants around California, and it's not expensive either. The attempt to try every vendor is an event on its own.
4. Air conditioning is king
Spending all day listening to your favorite artists play in the middle of the desert is one of the coolest experiences ever. Do you want to know what's even cooler? Air conditioning (no pun intended). Spending some time in the Heineken or Spotify tent to cool down is a beautiful thing.
5. You should see an artist you normally wouldn't
This is the case for multiple reasons. First, you discover new music. I saw Jhene Aiko for the first time at Coachella 2014 and now I'm a huge fan.
Secondly, the most exciting thing of them all: special appearances. Solange brought out her sister Beyonce last year, RL Grime brought out Big Sean, and
Pharrell Williams brought out Jay-Z, T.I. and Usher. Music festivals in general are widely known for bringing out artists not printed on the bill. Always stay
until the end of a set and don't be surprised if there are unexpected surprises.
6. Your cell phone is useless
Not using your phone for a couple days is a really freeing experience. Coachella does a great job of making sure this is impossible because you're, well, in the middle of the desert. You have no service. Your phone becomes useful for taking pictures and using as a flashlight and that's about it. You set a meeting spot with your friends in case anyone gets separated, and that's all there is.
7. Nothing brings people together quite like music
You've probably been to a concert before, but this is a whole new level of the musical experience. You will, at times, be in a crowd of 60,000 people all dancing or singing along to the same song. You will make friends from all over the country that you keep in touch with and plan to see again at the next festival. You will spend days eating, drinking, and breathing in the life and energy around you with a group of people, and that's magic if I've ever seen it.