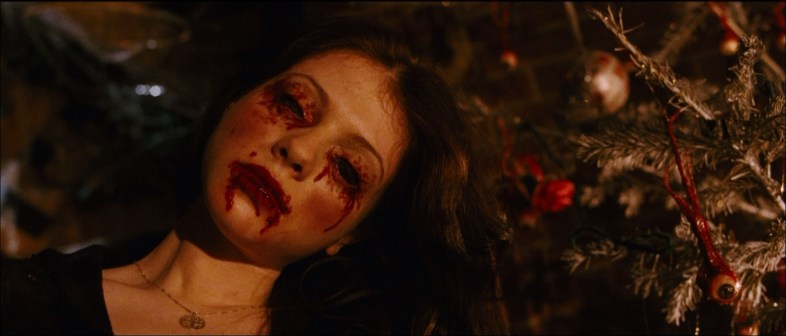 1. BLACK CHRISTMAS (1974)
Suitable for any time of the year if you ask me; but what can you expect from perhaps the finest slasher ever made? This film is a master class in how to cultivate atmosphere. The story of a group of sorority sisters who fall prey to a psychopath who makes obscene phone calls, the film features excellent performances from such stars as Olivia Hussey, Keir Dullea, Margot Kidder and Andrea Martin. Black Christmas has experienced a resurgence since the release of that terrible 2006 remake (and no, Glen Morgan, you are still not forgiven).
Director Bob Clark is also responsible for the criminally underseen Children Shouldn't Play with Dead Things as well as the moody Dead of Night. His most well-known film, however? A Christmas Story.
Yes, THAT A Christmas Story. This film is about what happens when Ralphie doesn't get his BB gun.
2. MARTHA MARCY MAY MARLENE (2011)
An exploration into the paranoid, traumatized inner workings of a young woman named Martha (Elizabeth Olsen) who reconnects with her sister and her new husband after fleeing a Manson-esque cult, this is one of the most unnerving films to be released in the last few years. Olsen missing out on an Academy Award nomination was an egregious oversight.
3. THE BROOD (1979)
A couple in the midst of a nasty divorce. Controversial psychiatric treatments. Child abuse. Killer children?
Yes, The Brood has all of this—and more. Featuring a powerhouse performance from Samantha Eggar as a woman plagued by demons (and who might have a few tricks up her sleeve to boot), this film is a disturbing and creepy horror classic. Check out the new Criterion DVD release!
4. THE WAR ZONE (1999)
Tom, an alienated teenager, is depressed that his family has traded in London for the dreary English countryside. His homesickness soon takes second fiddle to the discovery that his father (Ray Winstone) and older sister (Lara Belmont) might be a bit closer than fathers and daughters should be…
Tim Roth has unfortunately never directed another film since this one. Incredibly controversial upon its original release, it remains one of the most honest and harrowing portrayals of a dysfunctional family ever put on film. Belmont, as the tortured and perhaps morally ambiguous older sibling, delivers a performance for the ages.
5. THE SKIN I LIVE IN (2011)
Pedro Almodovar may have been heavily inspired by Georges Franju's Eyes Without a Face, but that in no way means this film doesn't stand on its own two feet. It does. There are few films as horrific as this one that have come out in the last few years. Truly an experience which managed to repulse me, thrill me, break my heart and even humor me by the time the credits rolled.
6. ONIBABA (1964)
Two women (a young widow and her domineering mother-in-law) kill samurai and sell their belongings to make a living in feudal Japan. Tensions are high between the two: the widow is torn between love for her deceased husband and her own brimming sexual desires and the mother-in-law is shrewd and not exactly the easiest person to live with. But their dynamic changes in an instant when a samurai wearing a bizarre mask crosses their path.
A film about the horrors of war, desire and loneliness, the cocktail isn't complete without a touch of the supernatural. The final fifteen minutes are some of the tensest I've ever had the pleasure of viewing. Enormous re-watch value.
7. POSSESSION (1981)
You have not known pure terror until you've witnessed Isabelle Adjani's searing performance in a film about marriage, divorce, infidelity and well, way more. The scene in the subway alone is the stuff of nightmares and the moment when I knew Adjani had bound me to her for life.
Let it be known that there is no film like this one on this earth.
8. VENGEANCE IS MINE (1979)
A positively brutal and uncompromising look into the mind of a murderous thief, Vengeance is Mine is probably the finest examination into the macabre mind of a serial killer that you'll ever see. Will push your tolerance of violence and sex to the limit.
9. RED WHITE & BLUE (2010)
Erica is alone, but not lonely. She likes it that way. She is indiscriminate in her choice in sex partners, roams between seedy clubs and depressing dives with ease and soon attracts the attention of Nate, a psychotic former interrogator for the US Army. But what happens when the fragile Franki, a wannabe rocker with a mother dying from cancer, unknowingly places himself between the two of them?
Simon Rumley's slow burn oddity of a film is an American nightmare on celluloid.
10. DEAR ZACHARY: A LETTER TO A SON ABOUT HIS FATHER (2008)
They say nothing is scarier than real life, and few films have shaken me to the utter core as much as Kurt Kuenne's heartfelt documentary. What starts out as a memorial to a best friend who was tragically murdered soon evolves into something much more beautiful, complex—and even sinister.
11. THE OTHER (1972)
The Other is one of the finest horror novels you'll ever read. Thomas Tryon (also the author of the chilling Harvest Home) is a highly underappreciated writer to this day. The film by Robert Mulligan is an excellent adaptation featuring a stellar performance from acclaimed actress and teacher Uta Hagen in the role of a grandmother with psychic abilities who finds her relationship with her grandchild tested as tragedies befall their farm. Not to be missed.
12. CUBE (1997)
I once read a review on IMDb which asked the viewer to think of Cube this way: Imagine getting stuck in an elevator. Now multiply that emotion by 1000.
The plot is simple, the setting is surreal, the experience unforgettable. A creepy fable which never loses its impact for me even after repeated viewings.
13. TESIS (1996)
You're a student working on your thesis. You're interested in society's perceptions of violence. You decide to focus your thesis on the topic of snuff films. You try and seek this material out.
Everything that can go wrong will go wrong.
But the film is stylish, inventive and one hell of a mood piece. Eduardo Noriega (a revelation in such films as Open Your Eyes and The Devil's Backbone) and Ana Torrent (The Spirit of the Beehive) are aces.
14. PARENTS (1989)
You're a child in the 1950s. You live in picture perfect suburbia. But you're shy, rather awkward, small for your age. Your mother loves you, but your father's a prick.
And both of them probably eat people.
An offbeat and dreamlike coming of age film about a kid who probably really enjoys his vegetables.
15. KILL LIST (2011)
Kill List is so dark and disgusting it very nearly asphyxiates you under all its compelling dreariness. But that's precisely why I love it. Often compared to 2010's A Serbian Film, though nowhere near as graphic, it is nevertheless one of the most unflinching experiences I've had watching a film in the last few years. Makes for one hell of a double feature with the aforementioned Martha Marcy May Marlene.
16. THE INNOCENTS (1961)
The best adaptation of Henry James' The Turn of the Screw, The Innocents makes my skin crawl just thinking about it. This largely due to the revelatory leading performance from Deborah Kerr as Miss Giddens, the naïve governess who becomes convinced that the children under her care (Pamela Franklin and Martin Stephens) might be under the control of the ghosts rumored to haunt their sprawling country estate.
Excellent production design, masterful cinematography and innovative lighting really established this film as a classic of the horror genre.
17. THE NIGHT OF THE HUNTER (1955)
Robert Mitchum was well known for playing creeps and murderers (and is probably most well known for his role as rapist and killer Max Cady in Cape Fear) but I consider this film to be his magnum opus. A masterwork in directing from noted thespian Charles Laughton, The Night and the Hunter is a fable of good vs evil brought chillingly to life.
18. NIGHTMARE IN A DAMAGED BRAIN (1981)
A grimy and unnerving flick about a man who escapes from a mental institution. Then he shacks up with a woman and her kids. Well, they don't know that he's there. Seriously, this is not a spoiler. They live in a one floor bungalow and HE STILL MANAGES TO REMAIN UNDETECTED. The creepy phone calls (one in particular has haunted for years), the chilling murder sequences…you owe it to yourself to see this one. A true gem.
19. RACE WITH THE DEVIL (1975)
Race with the Devil was released amidst the Satanic horror craze of the 1970s, sandwiched in between Rosemary's Baby and The Omen. It's sort of a road movie on one level, and not without 1970s cheese. But when our protagonists stumble across what may or may not have been a human sacrifice in the woods, the film really kicks into high gear. A hell of a thrill ride with excellent action sequences and set pieces and an ending that stayed with me for a long, long time.
20. BLOW OUT (1981)
Brian DePalma's melancholy masterpiece. A political thriller and horror film with a dash of tragic romance rolled all into one. The chemistry between John Travolta and Nancy Allen is out of this world.
21. COME AND SEE (1985)
The war film to end all war films. A visceral lens on what can only be described as a true apocalypse come to life, where lives are removed cruelly without reason.
22. MEGAN IS MISSING (2011)
Perhaps it'd be more appropriate for me to feature The Vanishing on this list, from which this film draws heavily. Because this film isn't really considered a great one. It's low-budget, but really packs a punch in the final half hour. And as far as horror films go, the experience stayed with me well after my first viewing. When I think of films that really gave me an unexpected thrashing, I tend to bring this one up, because it's true. Definitely one that is worthy of much discussion, flaws be damned. Highly superior to the following year's Amber Alert, which also preyed upon our society's fixation on missing children.
23. DEAD MAN'S SHOES (2004)
This is the film which convinced me that Paddy Considine just might be the best actor in the world today. The man is on another level here. A revenge tale at its most basic level, but one which boasts an intelligent script which truly makes the most of its characters, treating them respectfully with hardly any exposition necessary.
24. THE DAY OF THE LOCUST (1975)
The novel is one of my favorite books of all time, so I may be a little biased here. But you really can't go wrong with John Schlesinger's adaptation of the decay of the American Dream as seen through the eyes of a group of misfits and ne'er-do-wells living on the periphery of the Hollywood scene. A haunting film, an unfortunately underseen one and yes, a damn great one. Features Donald Sutherland in his best performance. The final sequence, a riot following the murder of a child in front of Grauman's Chinese Theater, is the stuff nightmares are made of.
25. HEAVENLY CREATURES (1994)
Friendship gone mad, Peter Jackson style.
Kate Winslet and Melanie Lynskey star as two teenage girls who cast themselves as the great tragedians in their respective lives and find escape in each other. The crowning achievement of Jackson's career before The Lord of the Rings catapulted his fame into the stratosphere.
26. CUTTING MOMENTS (1997)
A thirty minute short film which managed to become one of the harshest viewing experiences I've ever had in my life. A film which moved me and scarred me. I couldn't get it out of my head for weeks afterwards. A part of me is afraid to revisit it.
A director who can master the art of the short film knows what he's doing. Every single moment in this piece is used to startling effect.
27. THE TRAGEDY OF MACBETH (1971)
Yes, The Bard knew how to unsettle his audiences (Titus Andronicus, anyone?). In the hands of Roman Polanski, the classic play reaches stunning heights. Everything from the location to the costumes is period perfection. And once things get going, you'll never want to watch any other version of this tale of ambition, murder and madness again.
28. SNOWTOWN (2011)
Also released under the title The Snowtown Murders, this film is an exercise in gritty realism. The story of a teenager who befriends his mother's new boyfriend only to fall in with his crowd of self-appointed neighborhood watchmen, this is one film which truly knows how to rip your soul out. Made me believe I was reliving the actual case from which the film gets its name.
29. BENNY'S VIDEO (1992)
Michael Haneke took the fear of being watched to frightening heights in his heavily lauded Cache, but it is Benny's Video, an earlier exercise in voyeurism which has haunted me since I first saw it a number of years ago.
The story of a fourteen year old boy who loses the ability to distinguish between fantasy and reality to the point where he begins to commit murder and record confessions on camera for his parents, the subject matter alone is not easy to stomach. Casts an icy eye on acts of meaningless violence.
Arno Frisch, who plays young Benny, would reach greater notoriety as one of the murderous duo in Haneke's divisive Funny Games (1997).
30. IN A GLASS CAGE (1986)
A former Nazi doctor attempts suicide by jumping off the roof of his sprawling manor estate. He fails and is confined to an iron lung. Shortly afterwards, a mysterious man appears, charming his way into the house with ease. Then he reveals that he knows about the doctor's penchant for young boys and sexual abuse…
The tables turn at an alarming rate in this thoroughly controversial picture, which stunned and repulsed audiences upon its premiere at Cannes, a film which truly succeeds at gazing into the abyss.
And then the abyss looks back.
31. MISSING (1982)
Speaking of political thrillers…
They don't get scarier than this one. Starring Sissy Spacek as a tortured wife desperately searching for her missing husband in the aftermath of the 1973 Chilean coup d'état and Jack Lemmon as her prickly, yet equally as agonized father-in-law, the performances are a double powerhouse. The film unfolds like a countdown on a ticking time bomb. Get your hands on the beautiful and informative Criterion release!