1. Laverne Cox
Known to many as Sophia Burset from the Netflix original streaming series Orange Is the New Black, Laverne Cox is one of the most prominent vocal advocates for the trans community. As an actress and personality she has appeared on many reality shows, TV shows, and movies and used her position of prominence to raise awareness for trans issues.
2. Janet Mock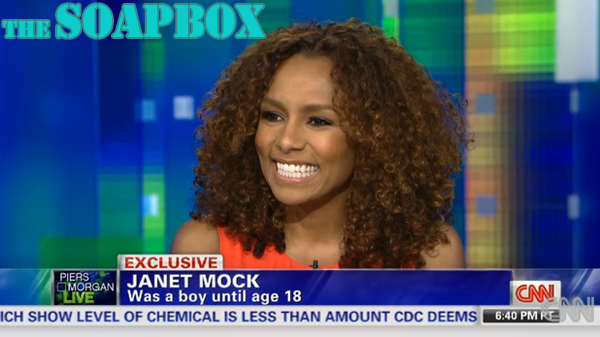 Janet Mock, a former editor at People Magazine, is the author of the New York Times bestselling memoir Redefining Realness. Mock came out publicly as a trans woman in Marie Claire in 2011. She has appeared on many news and talk programs to bring attention to the issues of the trans community.
3. Chaz Bono
Chaz is the only child of American entertainers Sonny Bono and Cher. Bono has become famous in his own right as a writer and advocate for the trans community. In 2008 Bono began his surgical gender transition, which he documented in Becoming Chaz. The film was shown at the Sundance Film Festival and later on Oprah's network OWN.
4. Carmen Carrera
Carmen Carrera is a reality star, model, and trans advocate. Carrera was made famous by the reality television contest RuPaul's Drag Race, and announced on an appearance of ABC News' "What Would You Do?" in 2012. Carrera has since worked continually as a model, boasting a 16 page spread in the Fall Fashion September 2013 issue of W magazine.
5. Candis Cayne
Candis Cayne is an actress, choreographer, model, and performance artist. Cayne starred in the 2007 ABC drama Dirty Sexy Money. The role made Cayne the first transgender actress to play a transgender character in primetime television. Cayne has appeared in numerous magazine and television shows and has written prominent op-ed articles on trans culture.
6. Thomas Beatie
Thomas Beatie's life as a transgender father has been well documented in television and print. Beatie has worked as an advocate for trans parenthood and marriage throughout the pregnancies and subsequent births of his three children. Beatie states that he appears in the media with the goal of normalizing trans parenthood.
7. Lana Wachowski
Lana Wachowski is one half of the producing, screenwriting, and directing team known as The Wachowskis. Her and her brother Andy were the masterminds behind The Matrix trilogy, V for Vendetta, Cloud Atlas, and more. Wachowski has also an outspoken and prominent activist for transgender rights. Wachowski received the Human Rights Campaign's Visibility Award in 2012.
8. Jay Kelly
Jay Kelly is the youngest child of R&B star R. Kelly. Kelly came out as transgender cia social media at the young age of 13.
9. Cece McDonald
Chrishaun Reed "CeCe" McDonald is a transgender woman who was sentenced to 41 months in prison after defending herself and her friends from a homophobic and transphobic attack. McDonald was released in 2014 after 19 months of incarceration. McDonald has been a vocal activist about the injustices of her case and many cases similar to hers. Actress Laverne Cox is producing a documentary called Free CeCe as a way to highlight the rampant transphobia that still exists today.
10. Chelsea Manning
Chelsea Manning is the woman at the center of the WikiLeaks controversy. Manning was sentenced to 35 years in prison for leaking secret documents to the site while working in the US military. Manning has since focused her work as an activist on transparency in government and transgender rights and liberties. She's currently writing for news outlet The Guardian.
11. Alexis Arquette
Alexis Arquette is an actress who hails from a famously talented family. Her parents were both screen actors, and her siblings include actors Rosanna, Patricia, Richmond, and David Arquette. In 1986, Arquette made her debut in the Bette Midler film Down and Out in Beverly Hills. Arquette has worked steadily as an actress in the years since. Her transition was documented in the film Alexis Arquette: She's My Brother, which debuted at the Tribeca Film Festival in 2007.
12. Tiq Milan
Tiq Milan came to prominence in 2007 by writing about his journey on his blog. Tiq is a senior media strategist of national news at the LGBT advocacy non-profit GLAAD. Milan has also served as Editor-in-Chief at IKONS magazine.