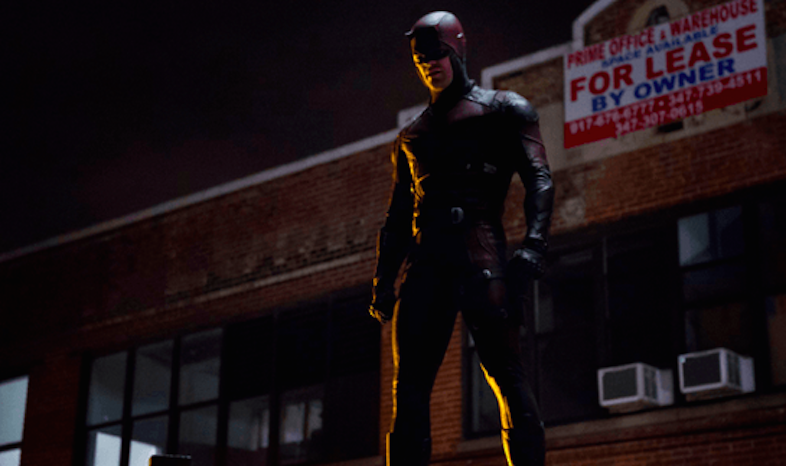 Netflix has done it again – another hard hitting original tv show – which breaks the mold on comic book superhero film noir. Blurring the lines of good and evil, right and wrong, dark and light. You will find yourself empathising with the villain, and at times disliking the hero.   Plotlines that focus on the narratives above makes Daredevil an edgier than most comic book turned tv show. Just another reason to ditch the cable ball and chain.
When the series was released on Netflix it put out all 13 episodes at once, letting you binge watch to your heart's content.  Like many a good Netflix show, it's very easy to fly through a season of Daredevil in a matter of a week.
The show starts, as many comic inspired pieces do, during the childhood of our hero Matt Murdock (Charlie Cox).  At the age of ten, Murdock rescues an old man from being killed by two colliding vehicles, one of which was carrying some kind of toxic waste. The waste ends up getting into his eyes, and ultimately blinding him. 
It then fast forwards to current day, with Murdock fighting Russian thugs while dressed in all black — including a black mask which covers his eyes.  Through much of the show he is referred to as "The Mask" or "The Devil of Hells Kitchen." His blindness heightens all of his other senses, which gives him his quasi super hero abilities. 
Murdock by day is a first year lawyer with his own practice in Hell's Kitchen NYC.  He is joined by his college roommate Foggy Nelson (Elden Henson) to make up the law office of Nelson and Murdock. They have their first case defending Karen Paige (Deborah Ann Woll), who is wrongfully accused of murder. She then ends up being part of the team, as Nelson and Murdock's secretary. 
Yet Murdock keeps all of his vigilante crime fighting totally separate from his team.  Though he shows up to work with bumps, bruises, cuts, and other unfortunate wounds, blaming it on "falling down." Being a blind guy makes it pretty easy to pull off.
The super-villain-du-jour is Wilson Fisk (Vincent D'Onofrio) a wealthy heroin kingpin, trying to become a real estate mogul by brute force.  His cohorts are comprised of the Russian mob, Chinese Mafia, Yakuza, and a shysty old accountant.  Every so often we get glimpses into Fisk's past, which paints the picture of a troubled youth, and at times you will feel bad for him, even after he has killed a man by bashing his head in with a car door. 
While this is an epic dark action series, with dazzling kung fu, gravity defying free running from Murdock, and plot twists at every turn – it still touches upon many social issues.  Class struggle, the heroin epidemic, corruption, and failures in the justice system are all examined.  Shows like this are a great example of making people think, while kicking ass. 
If there is only one new Netflix show you watch, better make it Dardevil.