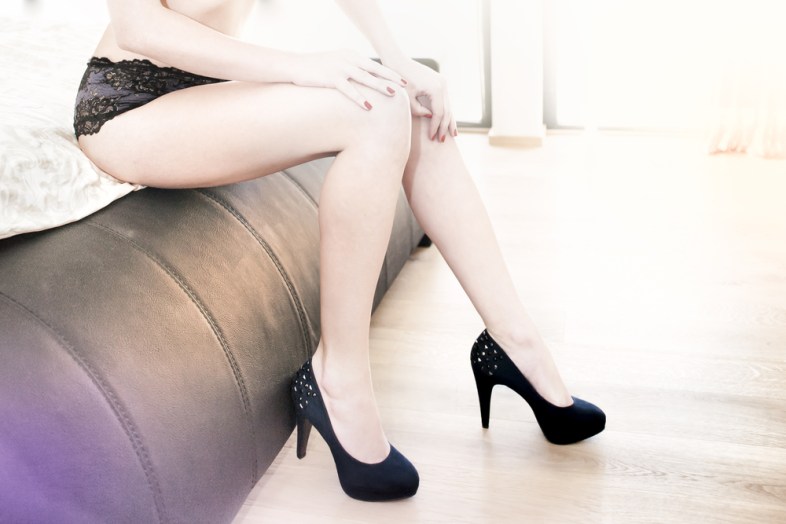 My attraction to women surfaced at an early age, around 10. I'd come home from school, plowing through the front door, throwing my backpack off, only to crumple like a slackened marionette onto the floor in front of my parents' large-screen TV. My favorite part of the day was about to commence: 4:00 p.m., the hour that Fox45 out of Dayton, Ohio aired reruns of Star Trek: The Next Generation. Though I considered myself an avid fan of the entire series – a Trekkie who dreamt of one day being teleported in real life – there was another, more intimate reason behind my excitement. I had a crush on Counselor Deanna Troi.
Of course, I had no self-awareness at the time, no recognition that the "hots" I had for Counselor Troi were indeed "hots", fiery little hints of my impending sexual orientation. But I loved the way she spoke, the way she moved, her hair, her eyes, her nose. And even when the nature of my feelings did occur to me a few years later in high school, the realization didn't present itself as one singular moment of clarity: By Jove! No wonder I want to beam myself up to Counselor Troi's side. I'm from the planet Lesbia!
No. In fact, I kept quiet about my feelings. I even dated guys. Acknowledging my own sexuality wasn't easy in a Baptist household in central Indiana.
Now, don't worry, this is NOT my "coming out" story. Rather, it's a bit of a confession. Because as innocuous as that ten-year-old girl was, eating Hot Pockets after school, admiring Counselor Deanna Troi on TV, that pre-sexual pipsqueak, fourteen years later, was a completely different person.
Kind of an asshole, if you ask me.
Fast forward to age 24. I was out and proud and had been for some time. Since I was 22, at least. But at 24, I finally felt freer than a three-nippled nun at a nude beach. Gone were the days of clandestine girl crushes and veiled innuendos recorded in the college-ruled pages of Bad Poetry Hell. In fact, I'd grown rather overt in expressing my sexual attractions and proclivities. When a woman with large breasts walked by, I took my time to stare at her. Still harboring deep, loyal feelings for Counselor Troi, when I'd meet or see a woman with long, dark, wavy hair, I'd leer unabashedly like a 1950s greaser.
Because I'd adopted the male gaze.
It was my friend Shelly who had pointed this out to me. I'd never heard the term before — "the male gaze." One night at a club, a small-town gay bar, to be precise, Shelly and I were out on the dance floor when a beautiful woman sashayed by.
"She's pretty," Shelly said.
"Pretty hot," I blurted back. "Check out them legs."
I continued to stare. And that's when Shelly said, "Jesus, you've got 'the male gaze.'"
At first, I smiled, liking the sound of that, thinking of it as something of which I should be proud. Like double-jointed thumbs or peace of mind. But the look of disgust on Shelly's face quickly told me otherwise.
"What?" I asked.
"You're objectifying her," Shelly said. "All you can see are her legs."
Now, I'd certainly heard the term "objectifying" before. It was something bad that men did to women. But for a 24-year-old, my understanding was more than a little vague.
Still, I was appalled by Shelly's accusation. "I'm admiring her," I said.
Shelly shook her head and let the conversation drop.
Her allegation stuck with me though. How could I possibly be guilty of such a crime? I was a feminist, for Pete's sake! Equal pay, the right to choose – I'd rallied for these things with my school's women's rights group. I'd even marched in Washington, D.C.!
A few days later, I went to the campus computer lab. It was seven in the morning and there were only three other students around. Good. I didn't want to risk getting caught looking up the definition of objectification.
And here's where the shame of this story really surfaces. Not only did I learn that morning, for the first time, the actual meaning of the word, but I suffered a sordid realization too:
I'd been doing it for quite some time.
I was treating the women I found attractive like objects, reducing them to their legs and breasts and thighs and butts, all there for my viewing pleasure. I'd somehow morphed from a closeted lesbian to an objectifying asshole in the span of two years. I'm a male chauvinist pig! I thought.
Panicked, I called Shelly with my realization. She laughed.
"You've seen the error of your ways," she said calmly. "You are not a male chauvinist pig."
"What am I then?" I asked, cringing, afraid of her answer.
"You are a lesbian," she replied. "Chauvinist pig. Or you were. But now you'll be able to recognize when you're objectifying someone and hopefully stop."
I promised Shelly that, yes, I would. Because I loved women. I still love them now. But objectification is objectification – committable by both men and women. And I can't be a feminist without being conscientious of my behavior.
And I'd like to think Counselor Troi would be proud.